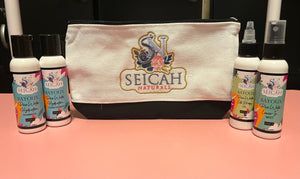 Introducing the Itty Bitty Rice Water Collection, the perfect travel companion for your hair care needs! This collection is designed to keep your hair looking and feeling its best, no matter where your adventures take you. Inside the branded SEICAH Naturals travel pouch, you'll find travel-sized versions of our fantastic products: Shampoo, Conditioner, Leave In Mist, and Lite Oil Drops.
Our Shampoo is specially formulated with the nourishing benefits of rice water, known for its ability to strengthen and restore hair. It gently cleanses your hair, removing impurities and leaving it feeling refreshed and revitalized.
The Conditioner in this collection is a true game-changer. Enriched with rice water, it deeply hydrates and nourishes your hair, while also detangling and improving manageability. Get ready for silky, smooth locks that are easy to style and maintain.
For an instant hydration boost on the go, our Leave In Mist is a must-have. Packed with the goodness of rice water, it replenishes moisture, tames frizz, and adds a healthy shine to your hair. Just a few spritzes will leave your locks looking and feeling fabulous throughout the day.
To put the finishing touch on your hair care routine, our Lite Oil Drops are the perfect choice. Infused with rice water, these lightweight drops help to seal in moisture, reduce breakage, and protect your hair from environmental damage. They leave your hair feeling soft, smooth, and lustrous without weighing it down.
With the Itty Bitty Rice Water Collection, you can enjoy the benefits of rice water wherever you go. Whether you're traveling the world or simply need a compact hair care solution for your busy lifestyle, this collection has got you covered. Say hello to gorgeous, healthy hair on-the-go!