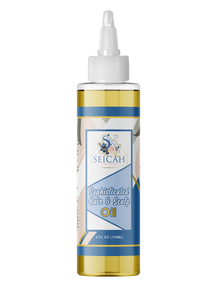 Our Sophisticated Hair and Scalp Oil was specially formulated to increase the rate of hair growth and thickens hair strands. Absorbs naturally into the hair fiber and coats hair without weighing it down, to help stimulate grow and prevent breakage. Our Sophisticated Hair and Scalp Oil is packed full of nutrients that repair damaged, dull, dry scalp and hair - so say goodbye to split ends and itchy scalp!

WHO IS IT FOR?
For ALL HAIR Types 1A to 4C and locs. Great for our protective styling queens that wear wigs, weaves, and braids. Our amazing natural hair and scalp oil can help reverse and prevent damage to your scalp and hair. Safe for colored treated, chemically treated hair, and relaxed hair. 

What's in it? (Ingredients)
Coconut Oil, Sweet Almond Oil, Jojoba Oil, Castor Oil, Jamaican Black Castor Oil, Grapeseed Oil, Argan Oil, Pomegranate Seed Oil, Vitamin E Oil, Apricot Kernel, Fragrance (Peppermint oil)


Precautions
Avoid contact with eyes. for external use only. This product contains herbs and essential oils, if you are allergic to these types of ingredients please don't use this product. SEICAH Naturals LLC will not be liable or responsible for any illness or allergic reactions caused by using this product. Please read instructions and always do a 24-hour skin test.


Directions:
*Always do a Patch test prior to using. *
Apply a small amount of oil directly onto your scalp or target area(s). Massage the oil into your scalp using fingertips. For best results we suggest using 3-5 times a week.
The oil solidifies in cold temperatures. If you received your oil in a solid form, which is caused by the cold. We recommend storing the oil in a warm area to keep it in its liquid form, in the instance that the oil is solid, boil some hot oil, put the oil in a bowl & place the oil in it. Oil should return to its solid form in 1-2 minutes