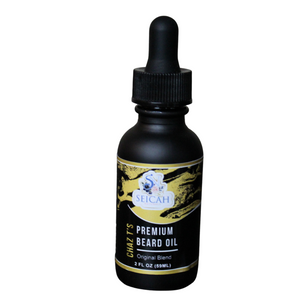 Our Premium Beard Oil was specially formulated to help bring dull and dry beards to life while moisturizing your beard and skin. It absorbs naturally into the hair fiber and coats hair without weighing it down, to help stimulate grow and prevent breakage. Our Premium Beard oil (like all of our products) is packed full of nutrients to repair damaged, dry and dull beards while promoting growth.
What's in it? (Ingredients)
Coconut Oil, Argan Oil, Sweet Almond Oil, Apricot Oil, Parfum (Fragrance)
Precautions
Avoid contact with eyes. for external use only. This product contains herbs and essential oils, if you are allergic to these types of ingredients please don't use this product. SEICAH Naturals LLC will not be liable or responsible for any illness or allergic reactions caused by using this product. Please read instructions and always do a 24-hour skin test.


Directions:
*Always do a Patch test prior to using on hair or skin. *
Put 2-3 drops of oil in your palms, spread it evenly in your palms and fingers.
Once the oil is distributed, brush your palms along the sides of your beard.
Do the same down the front, then bring both hands up through the bottom of your beard. Use your fingertips to coat the hairs on your mustache. Use a comb to evenly distribute the oil while setting the hairs back in place.